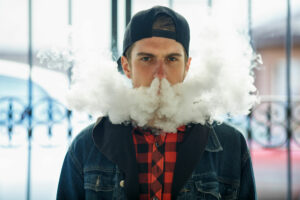 Dr. Stephanie Crise is committed to the health of the teeth she straightens and has great information on different kinds of braces.  But she is equally interested in the overall health of her patients.
E-cigarettes were introduced to the American market in 2007 and in the last few years, popularity has ramped up exponentially!  People picked up e-cigs, or vapes, thinking they were safer than smoking traditional cigarettes.  Nothing could be further from the truth, especially for young people.
A young person's brain is still developing up to about the age of 25 and since most e-cigs do contain nicotine, the developing brain is susceptible to many issues with nicotine exposure.  Nicotine addiction is an obvious consequence, but also mood disorders, impulse control, attention and learning deficits.  When youth make new memories or learn new skills, the brain forms a connection.  Addiction is a form of learning which makes nicotine addiction much easier in young people than adults.
Many believe that the aerosol in e-cigarettes is just harmless "water vapor."  But the aerosol inhaled and exhaled can contain nicotine, ultrafine particles that can be inhaled into the lungs, a chemical called diacetyl used in flavoring which can cause serious lung disease, cancer-causing chemicals and heavy metals such as nickel, tin and lead.  Flavorings that may be considered safe in food are not safe for the lungs because the stomach can process substances that the lungs cannot.
Also concerning, "The addiction to nicotine and later conversion to (or dual use with) regular cigarettes are the greatest concerns," says Roy S. Herbst, MD, Yale Medicine's chief of medical oncology at Yale Cancer Center.
If all that isn't enough food for thought, the e-cigarette device itself can be dangerous.  Batteries in the device are used to heat the coil which turns the liquid to vapor.  The batteries can come in contact with metal objects like keys, buttons, coins, etc. and this overflow of electricity can easily cause them to explode, either in someone's pocket, hand or mouth causing significant injury.
The facts are clear and supported by those who know.  For only the fourth time in his term as Surgeon General, Dr. Jerome Adams issued a rare advisory on December 18, 2018: "I am officially declaring e-cigarette use (vaping) among youth an epidemic in the United States."